Rani St. Pucchi
As an Author & Fashion Designer I am passionate about helping other women make positive changes in their lives. Unveiling A Celebrity Fashion Designer's Story (2016) shares my personal story.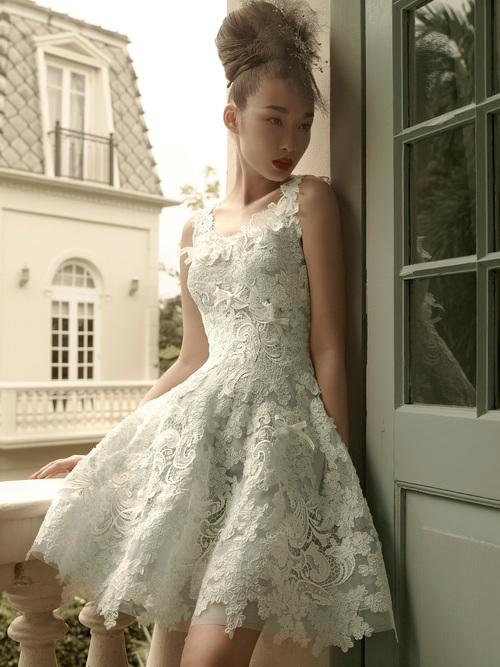 Visit StPucchi.com for Bridal Fashions
Rani St. Pucchi, President and Designer of St. Pucchi,- launched the global bridal empire in the United States in 1985. Her vision was to create an avant-garde bridal couture line modern in styling, but classic in detail. That vision has been realized in her collections today. How she got there is an awe inspiring story of a girl who discovered her love of fine fashion early, drawing on experience from her family's business as the largest purveyors of fine lace in Thailand.  Having earned a degree in English Literature during her college years,  and much to the dismay of her parents who did not want her to follow them into the fashion business, the story of St. Pucchi is an against all odds tale, as success came to Rani without any formal fashion training.  She pulled only from her experience growing up around fabrics, her lifelong enthusiasm for style and design, and remarkable natural talents that invoked her true calling as a designer at a young age. Her inimitable style is reflected in her signature gowns, which are luxurious and lavish yet clean and ageless.  Renowned for infusing her gowns with touches of magnificently colored jewels, exquisite hand embroidery, delicate beading and sparkling crystals on the finest silks, these inspired designs with innovative draping evoke the timeless elegance every bride desires. As one of the foremost designers to introduce exotic silk fabrics, hand embroidery and color to the United States bridal scene, she has been recognized on numerous occasions for her design talent. Rani's honors include being a finalist in the category of Best Bridal Designer in Dallas, as well as being nominated for three consecutive years as Style Innovator at the prestigious Chicago Apparel Center's DEBI Awards (Distinctive Excellence in Bridal Industry), before going on to win the Best Bridal Designer Award. Sold at exclusive boutiques throughout North America, Russia, the Middle East, Japan, U.K and Ireland, St. Pucchi is renowned for their range of avant-garde offerings of gowns worn by the world's most discerning brides including celebrities and style icons such as New York Giants' player Aaron Ross' wife Sanya Richards, Dallas Cowboys'  quarterback Tony Romo's wife Candice Crawford, Tara Reid, Timbaland's wife Monique Idlett, Jason Priestly's wife Naomi Lowde, actress Candice Cameron and Grammy Award winning country music singer Alison Krauss who donned a specially designed Chantilly lace and silk gown at the Country Music Awards. Rani's signature designs have also been recognized in the media spotlight in high profile magazines such as Brides, Harper's Bazaar, Cosmopolitan Brides, WWD, Inside Weddings, Martha Stewart Weddings, The Knot, Town and Country, on TV shows such as Entertainment Tonight, One Life to Live, Bride's of Beverly Hills, WE TV's phenomenal hit show Girl Meets Gown, and most notably, on the finale of Friends, as Phoebe captured the hearts of millions when she said "I Do" in a unique Lilac, corset bodice A-line St.Pucchi gown. Rani's real passion other than the world of design, is to help women who have suffered abuse, and who are struggling to find themselves, and be free of exploitation and damaging environments. Her enlightening story of  an arranged marriage, forced upon her at the age of 18, and the subsequent exploitation- is now the directive for her life. Though wildly successful in business, she was living in a private hell at home.  Rani is well aware of the trauma girls and women often face, having lived the violence and suffered the  pain and shame of domestic abuse. Her uplifting story of breaking free, and finding her voice- is truly remarkable and should be heard by women across the nation. Her upcoming memoir, Unveiling A Celebrity Fashion Designer's Story, will soon be published nationwide.